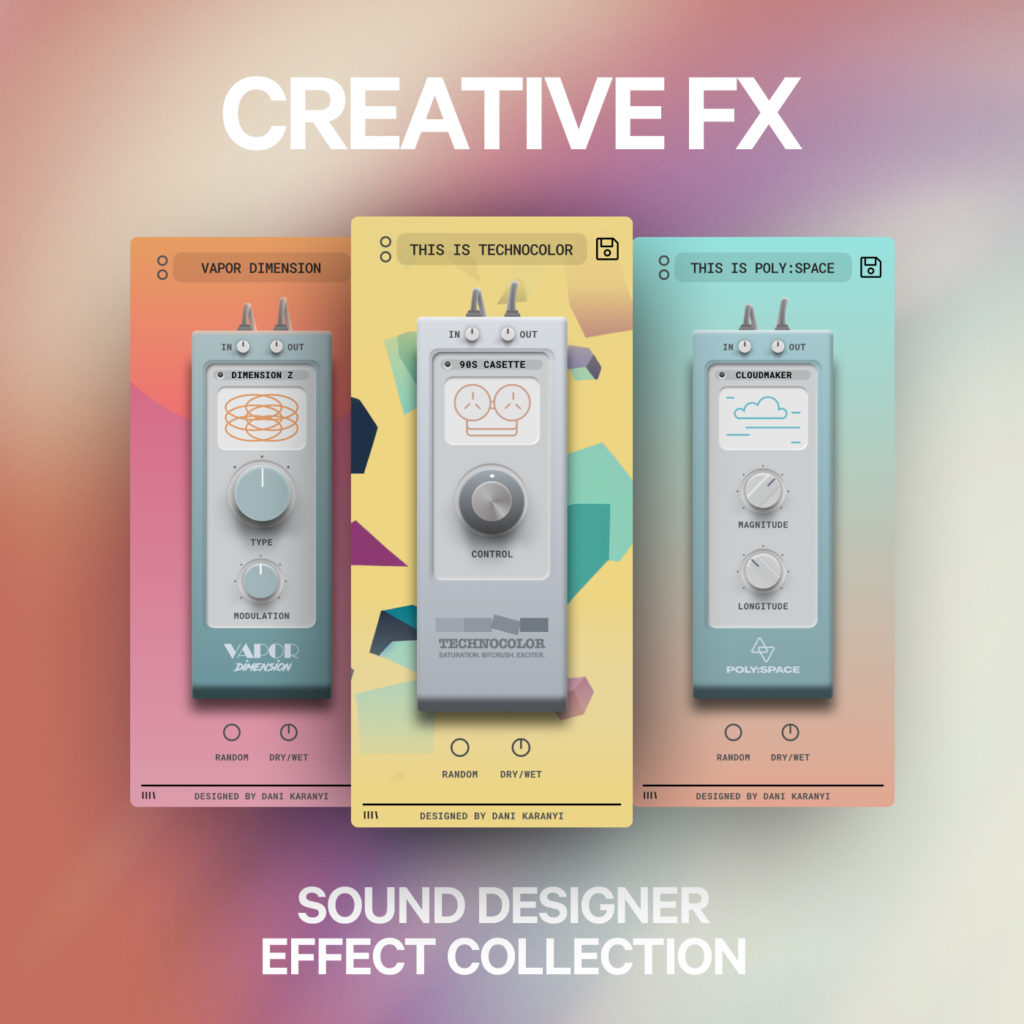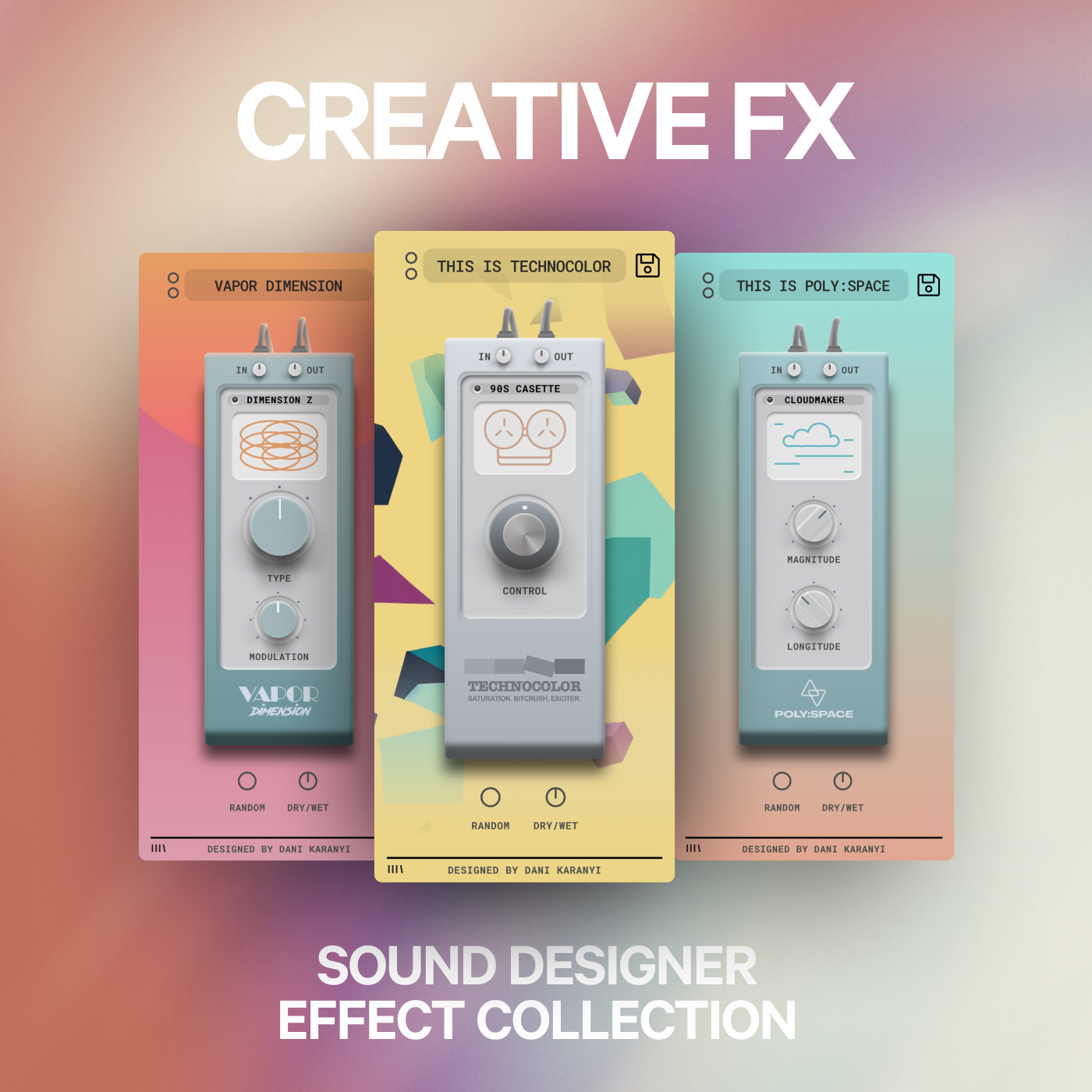 Effects that inspire
The Creative FX plugin collection guarantees a seamless flow of creativity. It includes three studio-quality effects: intricate DSP algorithms hidden underneath, with an incredibly user-friendly interface on the surface. Drawing inspiration from classic hardware effects, Technocolor, Vapor Dimension and Poly Space are designed to bring life to your productions: widen, saturate, elevate, distort, modulate and add vintage charm.

What's included?
Poly Space: Smart Ambient Reverb
Modern, studio-quality ambient reverb plugin combining pristine DSP algorithms and vivid impulse responses, including over 50 carefully designed space combinations of sampled famous vintage hardware and algorithmic reverbs.
Learn More: Poly Space
Technocolor: Smart Vintage Stauration & Colorizer
Vintage character plugin that adds instant old-school vibe to your synths and guitars, injects some grit into your vocals, basslines and even drums!rnrnInspired by classic samplers, tape machines and even radios, Technocolor was designed to spice up your sounds.
Learn More: Technocolor
Vapor Dimension: Smart Vintage Modulations
Colorful modulation plugin that brings rich, vintage tones and wideness to your synths, keys, pads, guitars, vocals and more.
20 built in DSP algorithms inspired by vintage chorus, phaser, and harmonizer hardware units.
learn More: Vapor Dimension
Creative FX Summary
Contains our 3 best-selling creative VST/AU FXs:Poly Space, Technocolor & Vapor Dimension
70 Factory & Artist presets
110+ Studio-quality algorithms
Streamlined interface for each unit
Smart Random button on board for instant inspiration
Dry/Wet and In-Out knobs for ease of use in mixing situation.
Supports major DAWs, including Ableton Live, FL Studio, Logic Pro, Cubase, Reason, Studio One, BitWig, Reaper, etc.
System Requirements
Mac OS X 10.11 or higher
Windows 7 or higher
4 GB of RAM, 8 GB is recommended
2 GHz CPU with at least 4 cores
64 bit DAW
250 MB free disk space
Available Formats
Mac OS: AU, VST3 (64-bit)
Windows: VST3 (64-bit)
Pro Tools and Maschine are NOT supported
Customer Reviews
I'm pretty much addicted to CloudMax. Endless possibilities!

27 days ago

Very nice effects. I love it!

69 days ago

i've been a huge fan ever since i got a free copy of space from plugin boutique and its been so much fun playing around with the creative fx bundle having access to these powerful tools and also light in terms of cpu usage allows me to work freely

178 days ago

Great quality!! User friendly.. excellent presets. Looking forward for future releases! Really digging this company

179 days ago

Unbelievably cool Plugins!!!!!Magic!!!

179 days ago

Karanyi plugins take you to another level and I like that!

179 days ago

The good stuff from Lofi Keys in standalone effects. This. Is. Awesome.

222 days ago

Like that pretty girl in school every guy is trying to date, the design of the GUI is absolutely beautiful, but this plugin is not reaching its potential to be great. Will I use this on a daily basis? I'm not sure there's a future for us yet, but maybe with a few updates that could change my personal perception…

231 days ago