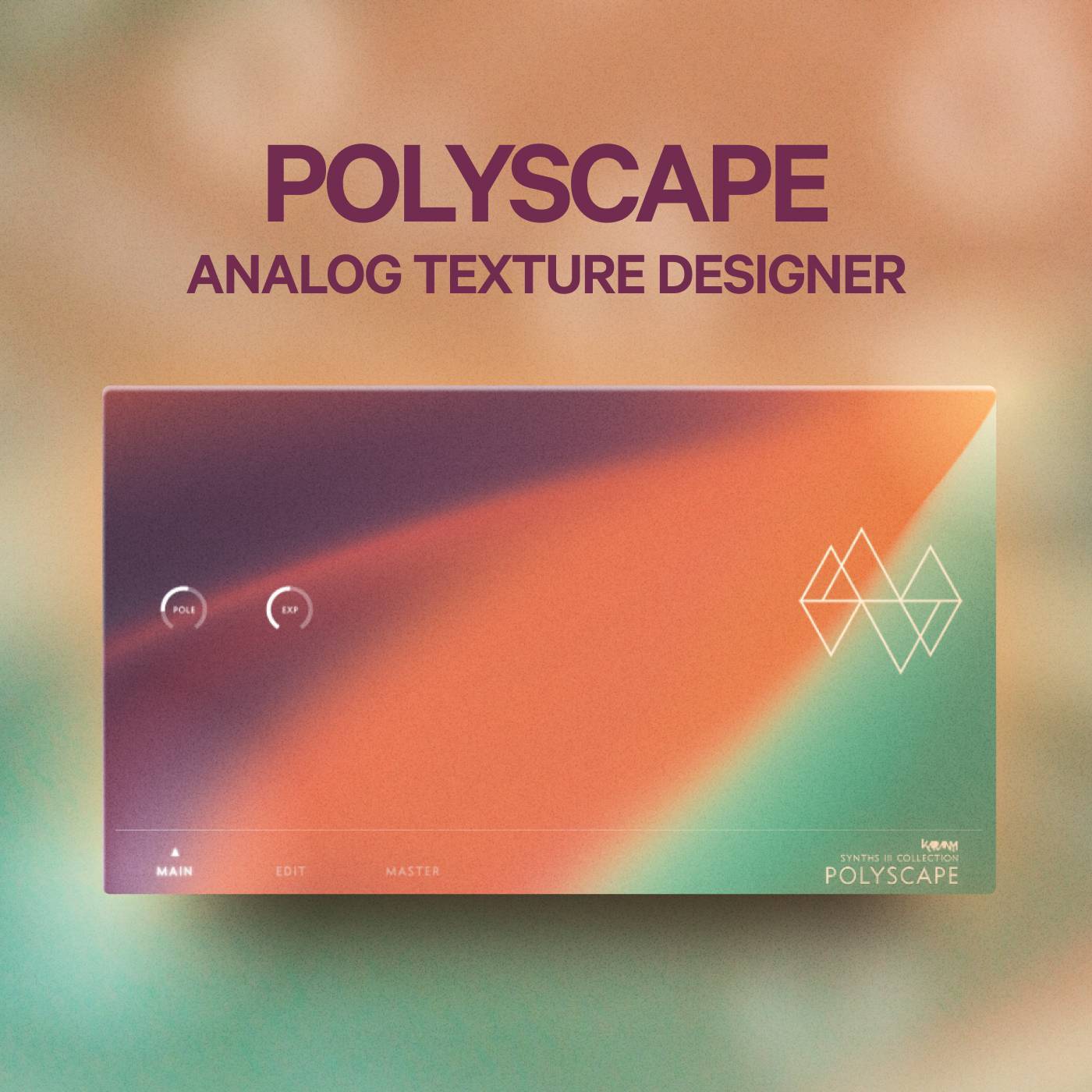 40 SYNTH MODULES
90+ SOUNDSCAPES

24/48 SAMPLE QUALITY
RECORDED WITH ANALOG GEAR

KONTAKT 5.8.1 FORMAT
LOSSLESS COMPRESSED SAMPLES

Sparkling ambiances. Dystopian landscapes. Vintage synth beds. This is all Polyscape, a synthesizer pad instrument inspired by 90s liquid underground electronic music, synthwave artists, and classic 80s film scores such as Blade Runner by Vangelis or Terminator by Brad Fiedel. The library contains carefully handcrafted patches from 9 analog synths such as Moogs, Oberheim, Sequential Circuits, and Nord Lead.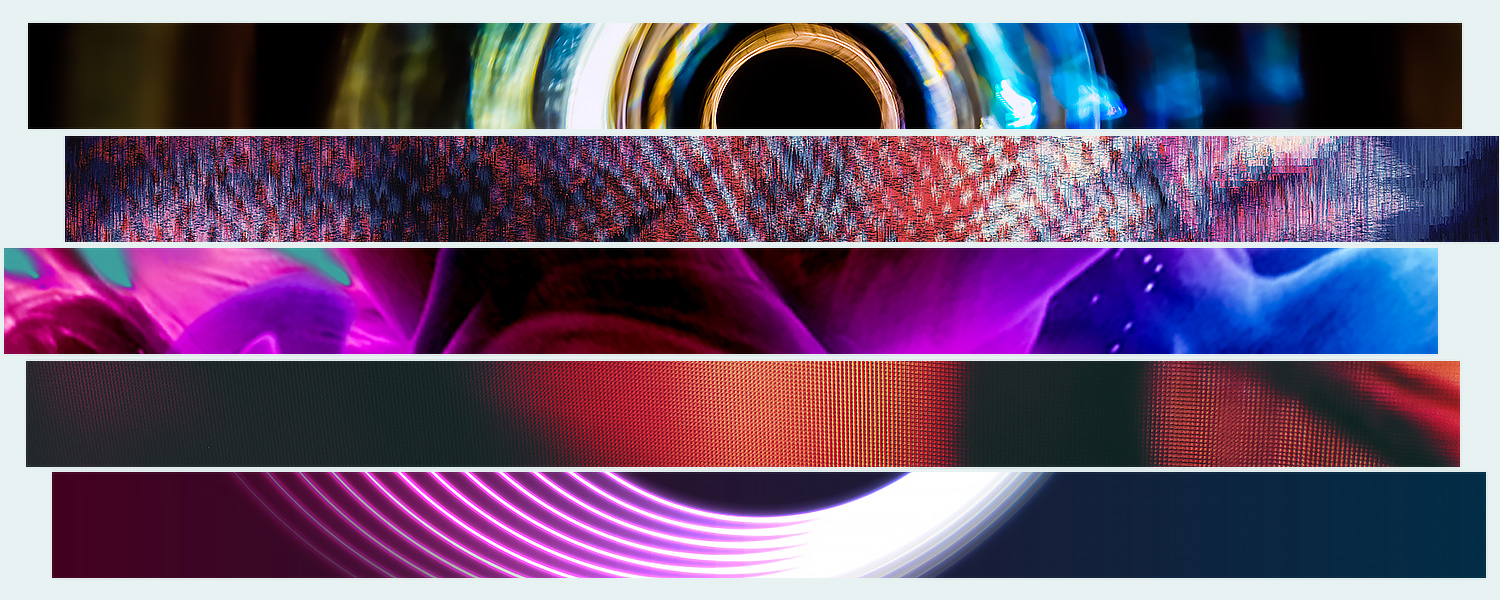 Polyscape is a boutique collection of synthetic pads for creating large synth soundscapes for your tracks. The engine comes with 40 sampled synth patches (so called Modules) which you can freely mix, blend, melt together on 4 slots to design your own scapes.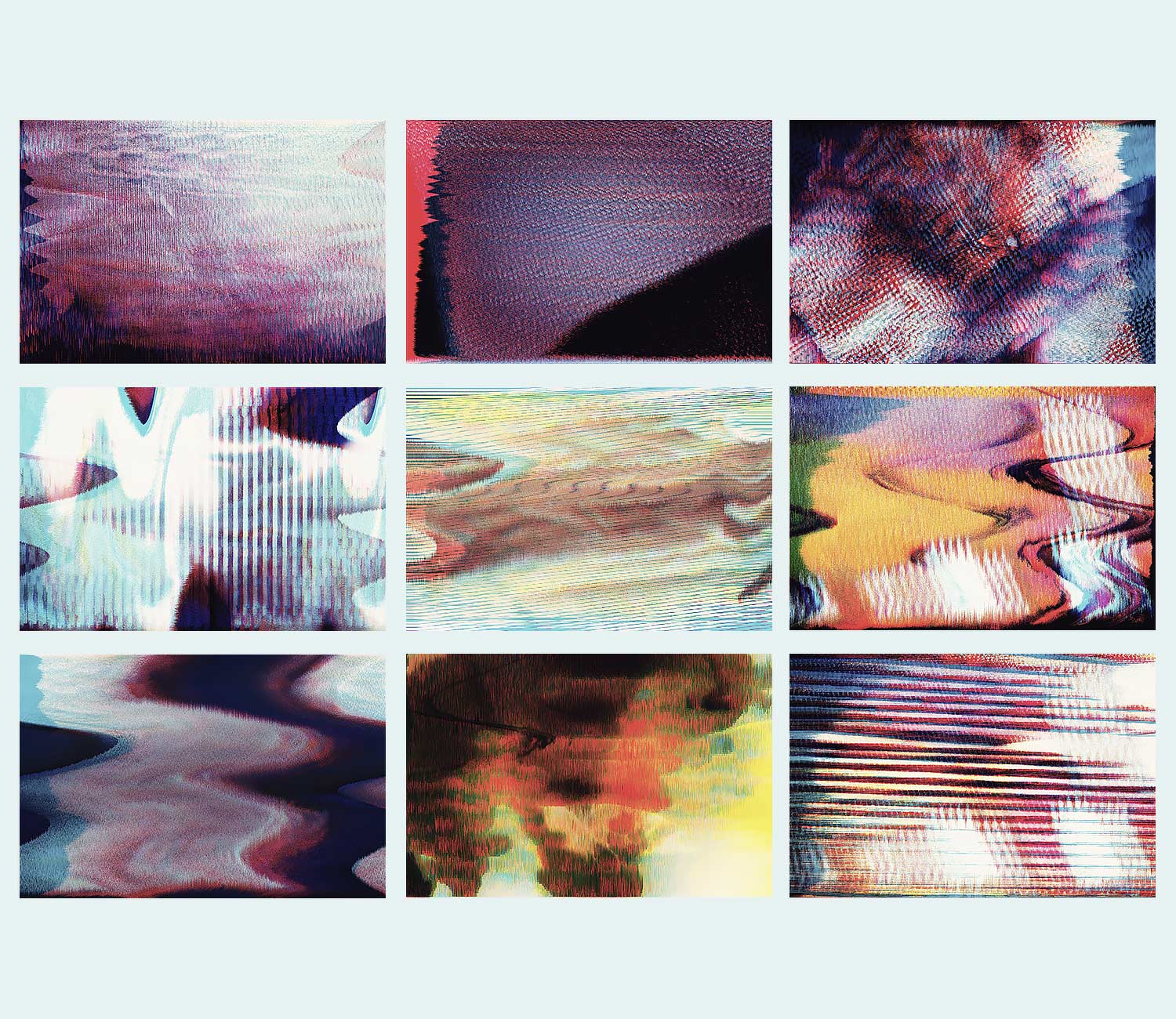 Synth Modules are full-length sampled synthesizer patches divided into 8 subcategories: Strings, Brass, Reeds (flutes, woodwind-like sounds), Vox, Keys (piano, electric piano-like sounds), Organs, Morphs (analog orchestral sounds) and Specials (heavily designed sounds: recorded via VHS player or hardware effect processors).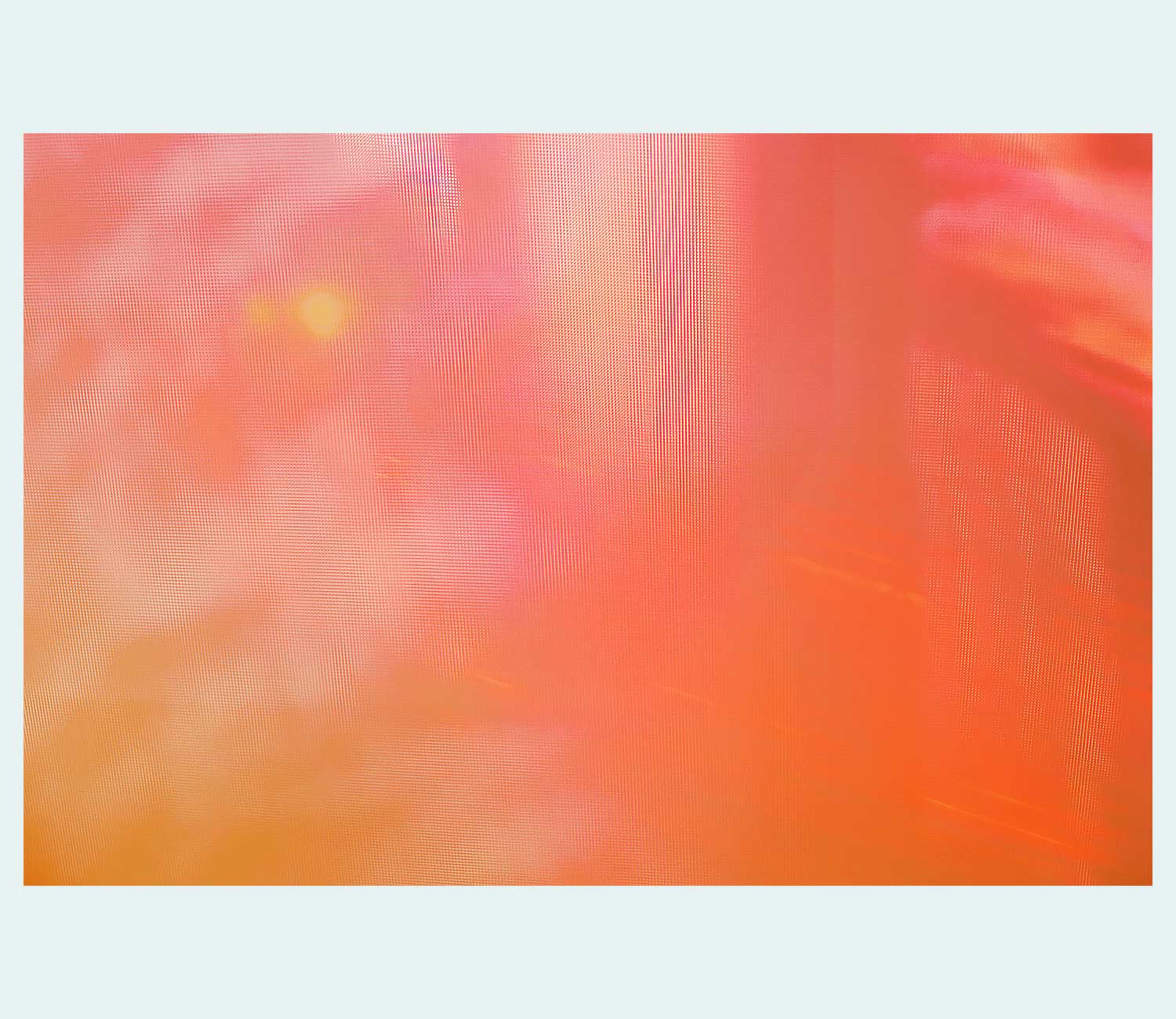 Polyscape comes with 90+ pre-designed presets categorized into Pads & Soundscapes (huge and deep, to bright cinematic synth atmospheres), Strings & Sweeps (classic synthesizer pads) and Keys & Vintage Stuff (classic 80s style analog synth keys). Great for creating subtle moving sublayers for any kind of music or to create extraordinary, long, grand, floating soundscapes.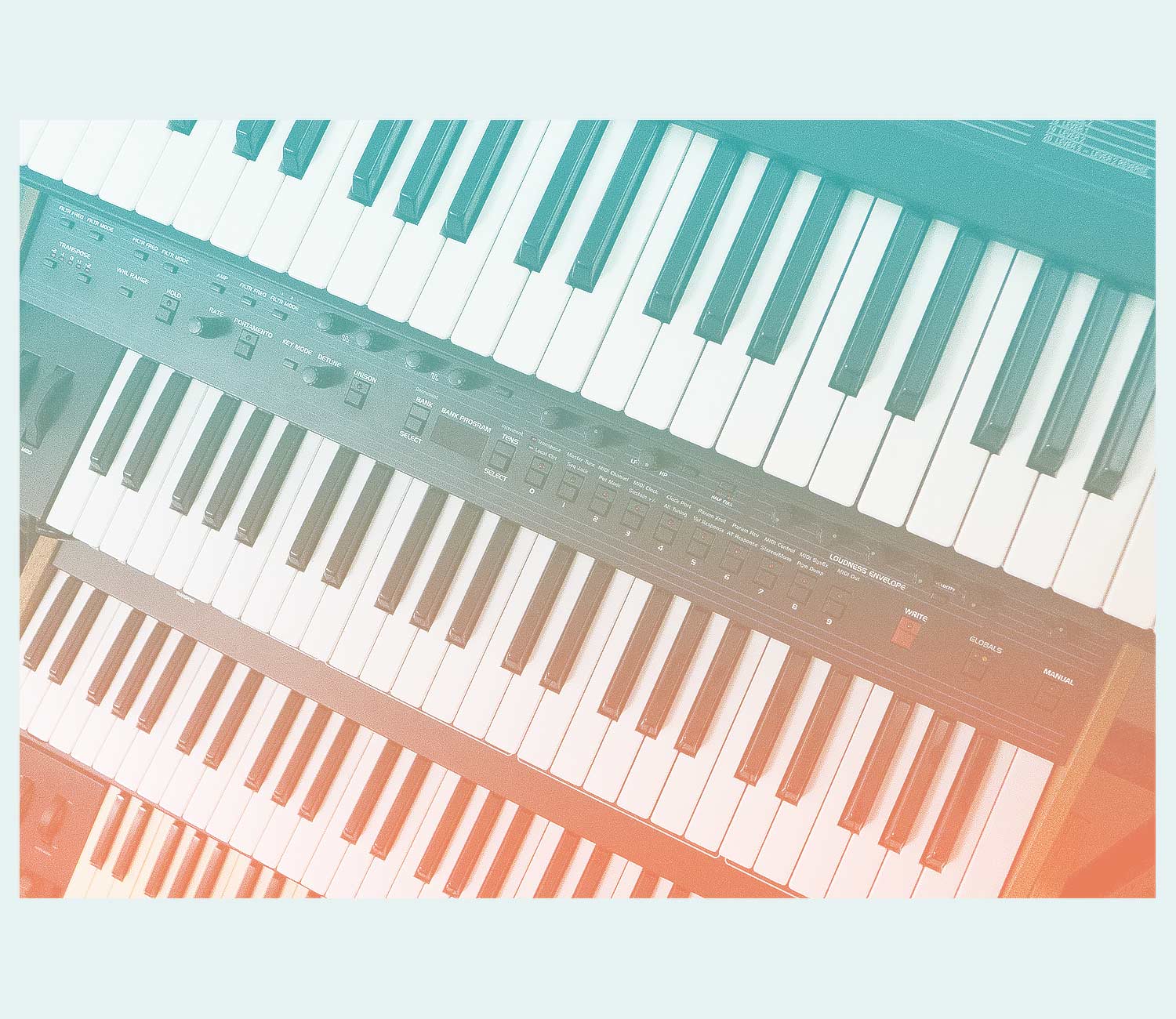 We handcrafted and recorded some amazing 80s – 90s vintage instrument patches from Sequential Circuits Prophet, Nord Lead 2x, Oberheim OB32 Organ Module, Matrix 1000 & Matrix 6 and modern instruments like Moog Subsequent 37, Dave Smith OB6 and Sequential Circuits REV2.
List of Modules & Presets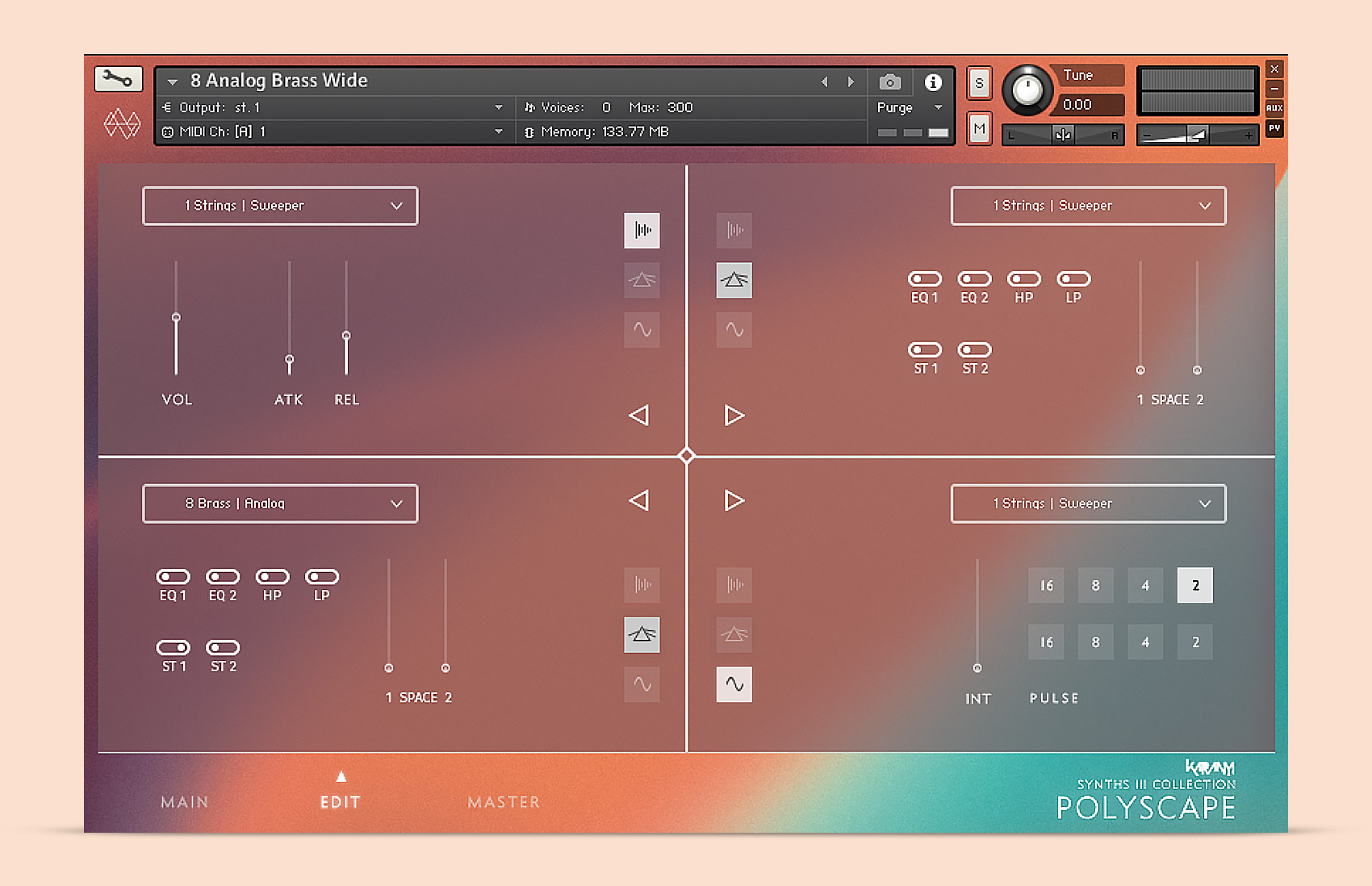 Strings (Modules)
1 Strings | Sweeper
2 Strings | Slider
3 Strings | Super
4 Strings | StringMachine
5 Strings | Sentimental
Brass (Modules)
6 Brass | Hero
7 Brass | 80s
8 Brass | Analog
9 Brass | T2
Reeds (Modules)
10 Reed | WindMachine
11 Reed | Kinabalu
12 Reed | VHS-Flute
13 Reed | AnalogTale
14 Reed | Sweeper
Vox (Modules)
15 Vox | FrogVox
16 Vox | Seasons
17 Vox | Choral
18 Vox | SpaceMonk
Keys (Modules)
19 Piano | Prophet6
20 Piano | MatrixGrand
21 Piano | DX
22 Piano | Agent
Organ (Modules)
23 Organ | AnalogChurch
24 Organ | Ringmodular
25 Organ | OB32
26 Organ | Aether
Morphs (Modules)
27 Morph | Nordic
28 Morph | Sweeper
29 Morph | Modular
Specials (Modules)
30 Special | VHS-Ah
31 Special | VHS-I
32 Special | VHS-Er
33 Special | VHS-O
34 Special | Bird
35 Special | Moon
36 Special | Thrill
37 Special | Amoeba
38 Special | Turbulence
39 Special | Submariner
40 Special | EmptyPlaza
Pads & Soundscapes
ML Alpha A.nki
ML Alpha B.nki
ML AnalogSun A.nki
ML AnalogSun B.nki
ML Anima System A.nki
ML Anima System B.nki
ML CloserToYou (Long) A.nki
ML CloserToYou (Long) B.nki
ML Finale A.nki
ML Finale B.nki
ML Fountain B.nki
ML Fountain.nki
ML Frozen Dream A.nki
ML Frozen Dream B.nki
ML Interstellar.nki
ML Makita Stain A.nki
ML Makita Stain B.nki
ML MicroRealm A.nki
ML MicroRealm B.nki
ML Mirage B.nki
ML Mirage.nki
ML Monarch A.nki
ML Monarch B.nki
ML Nutrino B.nki
ML Nutrino.nki
ML Path.nki
ML Periphery (Long) A.nki
ML Periphery (Long) B.nki
ML Rise and Shine A.nki
ML Rise and Shine B.nki
ML Solaris.nki
ML SpaceOpera A.nki
ML SpaceOpera B.nki
ML TimeTravel 2020.nki
ML TimeTravel 2024.nki
ML Windows 9500.nki
ML Windows 9501.nki
SL Abandoned Metropolis.nki
SL Alien Soap Opera.nki
SL Arrival.nki
SL Deep Hybernation.nki
SL Glass-Works.nki
SL Million Seconds.nki
SL Miracle on Neptune.nki
SL Mirrorman.nki
SL Path.nki
SL Ray Of Light.nki
SL Returning.nki
SL Soft Beating.nki
SL Solaris.nki
SL They Coming.nki
SL Timetravel.nki
SL Tokyo 2240.nki
SL Zion.nki
Strings & Sweeps
SL Big Chorder (Superwide).nki
SL Big Chorder.nki
SL Blurry Field.nki
SL Crystals in the Cave II.nki
SL Crystals in the Cave.nki
SL Glass Love.nki
SL Minolta City.nki
SL Nordic Slide Spaced.nki
SL Nordic Slide.nki
SL Rising Sun Space.nki
SL Rising Sun.nki
SL Stranger Thing Space.nki
SL Stranger Thing.nki
SL StringMachine A.nki
SL StringMachine B.nki
SL StringMachine C.nki
SL StringMachine D.nki
SL StringMachine E.nki
SL Telepatic Cream.nki
SL Watching TV A.nki
SL Watching TV B.nki
SL Watching TV C.nki
SL Watching TV Next Door.nki
Keys & Vintage Stuff
ML JumpBrass A.nki
ML JumpBrass B.nki
ML Klang A.nki
ML Klang B.nki
ML Mr Smith A.nki
ML Mr Smith B.nki
ML NetscapeBrass Bright.nki
ML NetscapeBrass Soft.nki
ML NightTrain A.nki
ML NightTrain B.nki
ML RoboChoir A.nki
ML RoboChoir B.nki
ML RoboChoir C.nki
ML RoboChoir D.nki
ML Soraya Fields A.nki
ML Soraya Fields B.nki
ML VaporKeys A.nki
ML VaporKeys B.nki