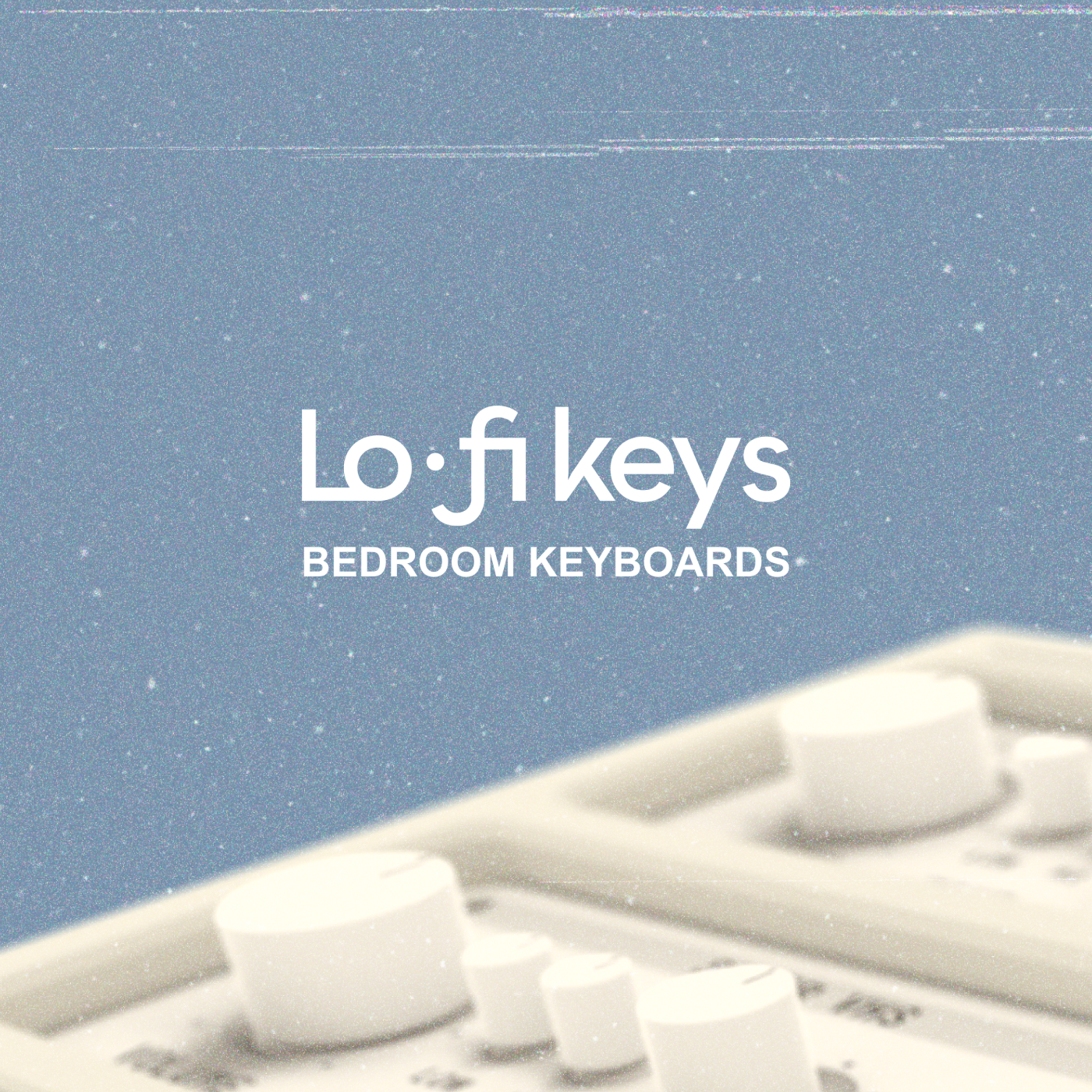 Lofi Keys VST, AU plugin for Mac & Windows brings the classic lo-fi sound to your music productions with a radically simple user interface. It features legendary electric pianos and synth classics, all resampled on vintage tape players, cassettes, and VHS players. Create smooth, dreamy themes for your lo-fi beats or add lush-sounding hybrid soundscapes to your scores.

Cozy Spaces. Lazy Sounds.
The Lofi Keys VST instrument will give you access to 8 iconic electric pianos and analog synths including the award-winning Blüthner acoustic piano (from Midiwood by Richard Vossgatter), all in one place. You can freely combine these to get your own unique blend and process it with a line of creative effects and even noises (VHS, Tape & Vinyl).

Vintage style. Modern vibe.
Create some truly inspiring sounds with Lofi Keys! Choose from 40 different sound sources on two sound slots. Add some extra touch with five different tape, VHS and vinyl noise layers, control the tape wow and shape your overall sounds with other super intuitive controls!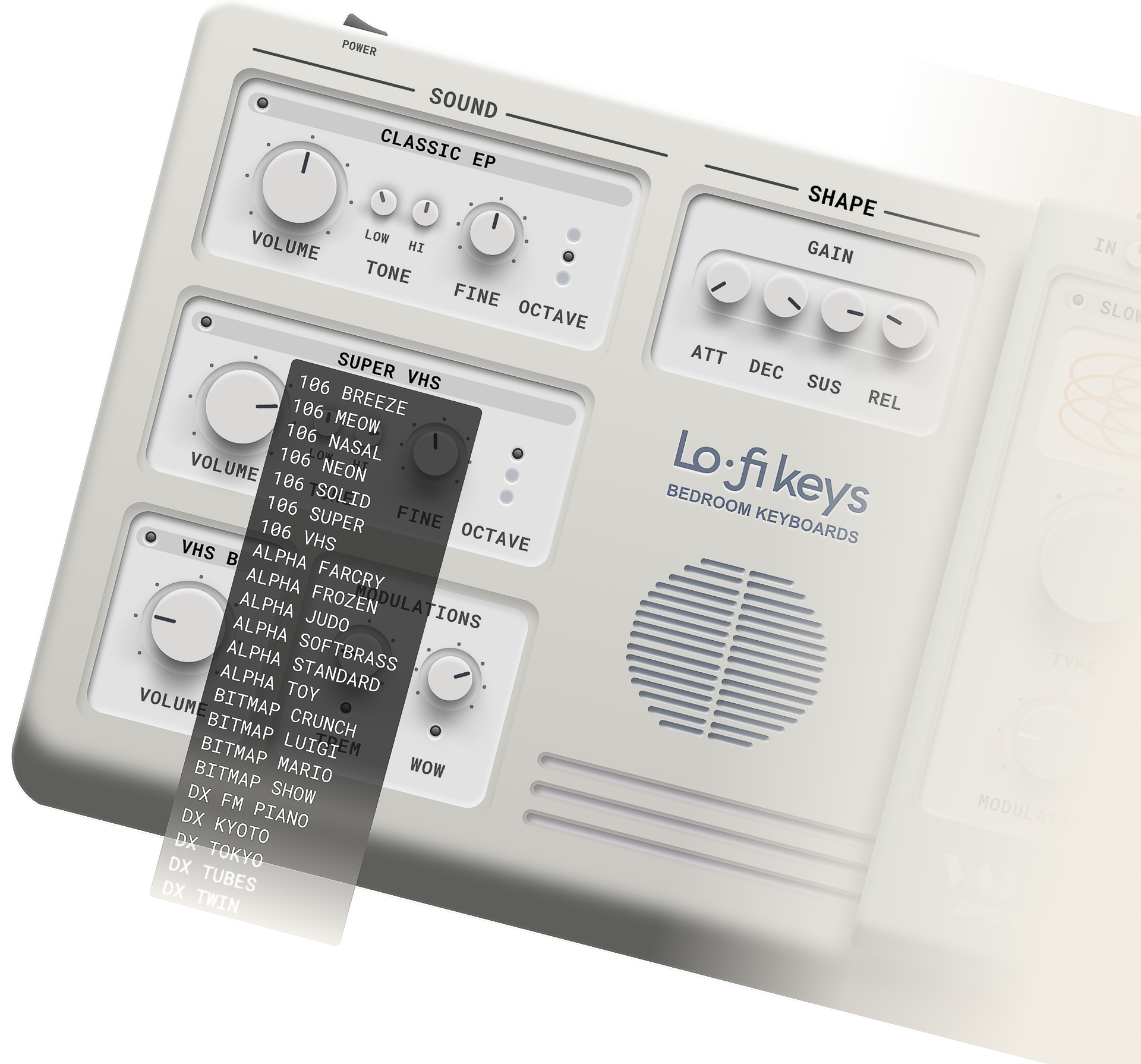 Impressive sounds from a single touch of your finger! With our customers' favorite
Smart Random controls you can create exciting fresh new sounds with just one click!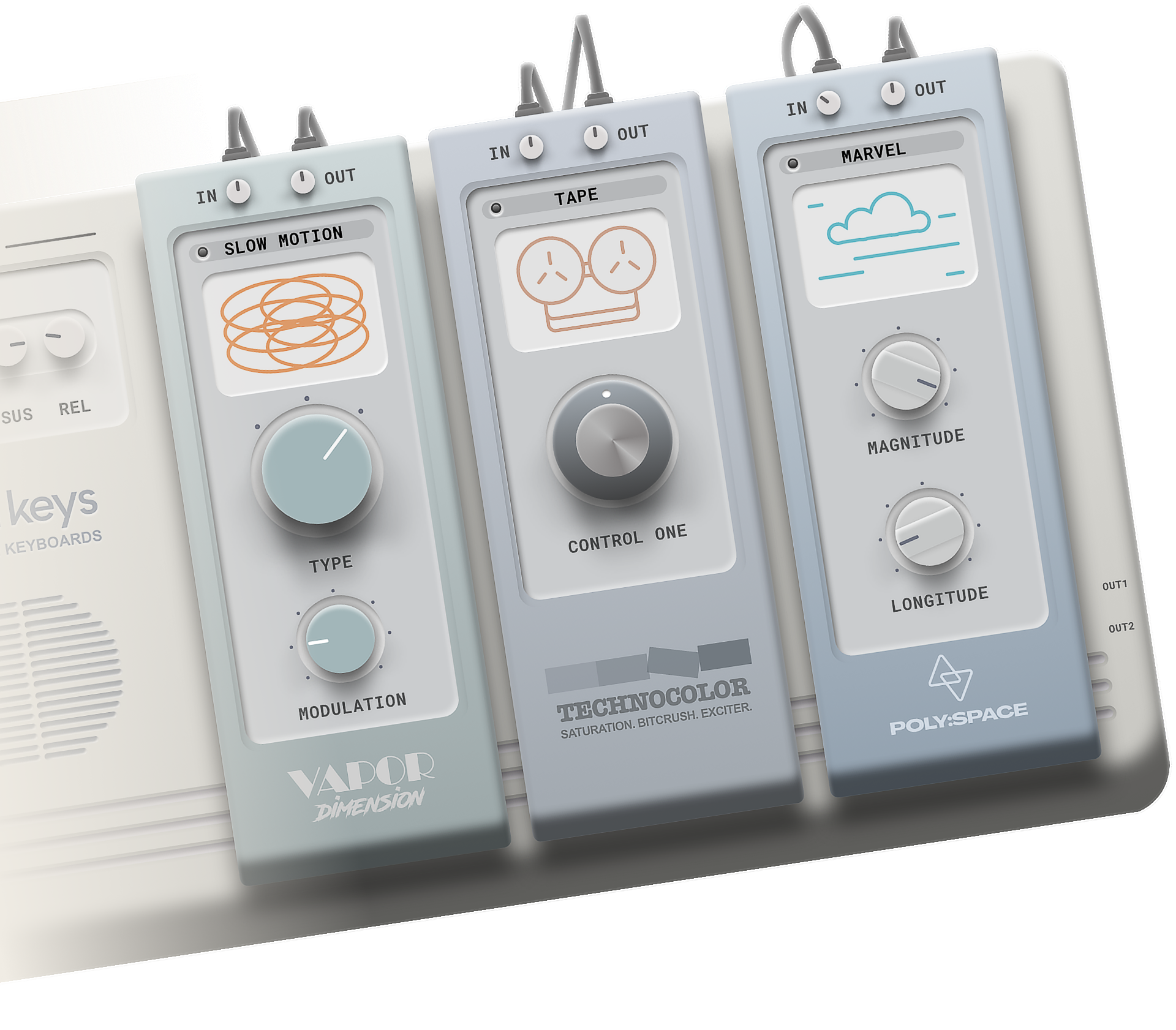 3 Exceptional Effect Units
Lofi Keys comes with 3 amazing effect units to bring you the desired lo-fi vibe. Dimension is a vintage chorus module from our famous Vapor Keys series, Technocolor is a newly designed exciter and Poly Space is our best-seller reverb FX module. These modules include over 30 various effect algorithms that will make your sound authentic right away!
All the sounds of this track have been made exclusively with Lofi Keys (excluding drums and sound FX).
Lofi Keys (for Win and Mac)
Ultimate lo-fi Instrument
Lofi Keys Pro (for Win and Mac)
Cinematic sounds meets lo-fi! Including VHS Atmos Expansion Soundbank
Lofi Keys Summary
40+ Factory & Artist presets

Studio-grade sounds from legendary instruments

2 sound layers for blending
Streamlined set of controls (all MIDI-learnable) including:

Volme ADSR
Sound layer controls: volume, fine tune, octave, tone eq
Different noises for coloring: VHS, Tape, Vinyl
Modulators: Tremolo; Wow
Main Gain

Effect rack including:

Vapor Dimension – Chorus effect variations from Vapor Keys
Technocolor – Exciter fx custom made for this instrument for advanced character shaping
Poly Space – Our customer-favorite reverb fx for lush, unreal spaces
Effect presets for easy dial-in
Dry/wet knobs for smoother mix
In/Out Gain for each effect

Our Smart Randomizer technology, including:

Random instrument sources (Modules)
Random Sound controls (ADSR, modulators, etc.)
Random effects (All the 3 FX modules separately)
Surprise (Smart Random All)
System Requirements
Mac OS X 10.11 or higher is recommended
Windows 7 or higher
4 GB of RAM, 8 GB is recommended
2 GHz CPU with at least 4 cores
64 bit DAW
2GB free disk space
Available Formats
Mac OS*: AU, VST3 (64-bit)
Windows: VST3 (64-bit)
* M1 Macs are supported
* Pro Tools and Maschine are NOT supported
Recommended (stable) Ableton Live 11 version is 11.2.6. or earlier.