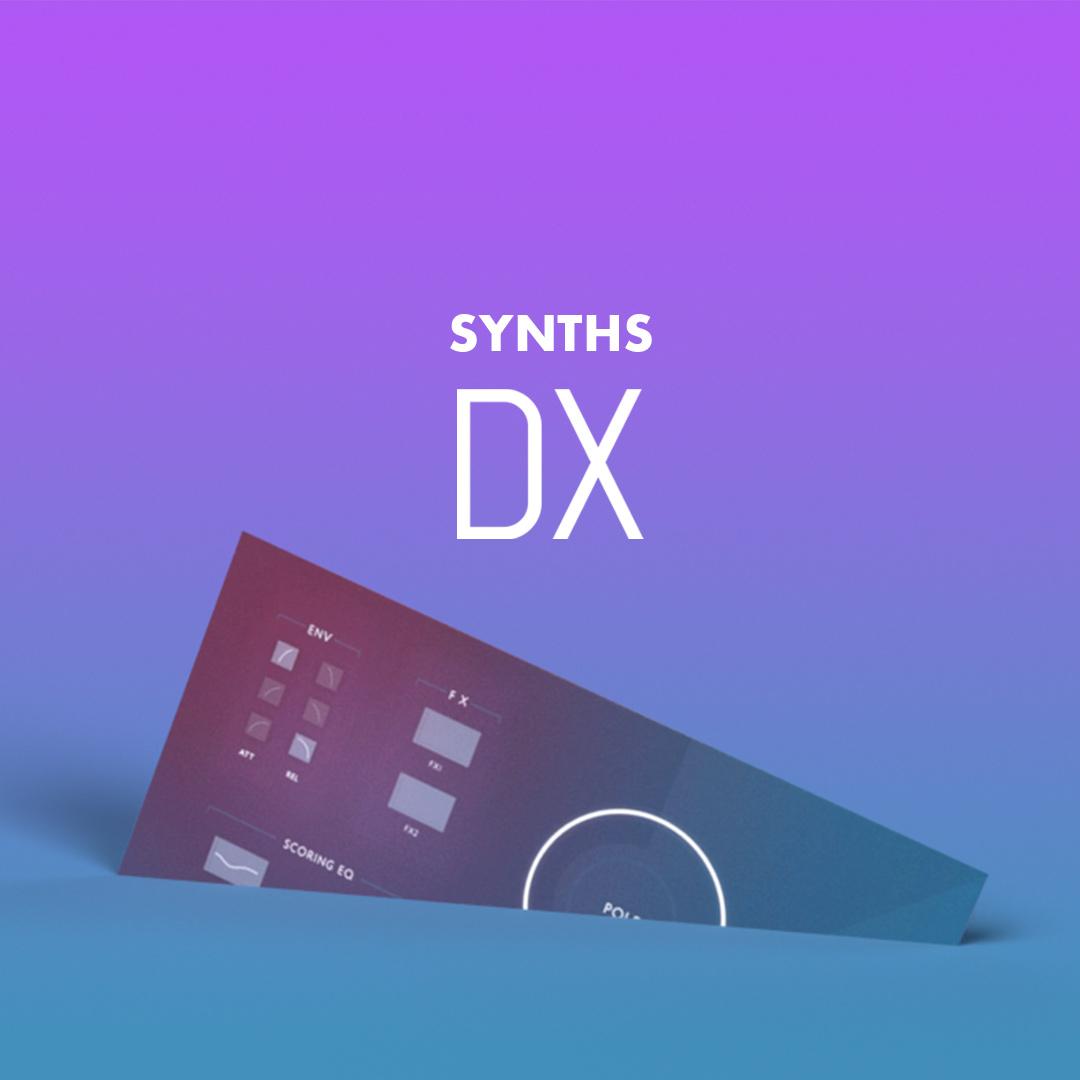 + 9 ANALOG SYNTH SOURCES
+ 60 PRESETS FOR FILM, AMBIENT & ELECTRONIC MUSIC

+ 24BIT / 48KHZ QUALITY
+ OVER 3 GB CONTENT
+ RECORDED WITH ANALOG GEAR


+ KONTAKT 5.7+ FORMAT (Full Version Required)
+ WITH NCW LOSSLESS COMPRESSED SAMPLES
Color Palette of Analog Sound

SYNTHS DX is a collection of inspiring sounds for creating subtle cinematic atmospheres, deep, wide sci-fi pads for film, videogame, ambient and synthwave music production. With its 60+ instrument presets you get a palette of colors for your next track.
All samples are recorded key-to-key in 24 bit 48kHz. We captured these sounds with analog gear and by applying the minimum software post-production process to keep these patches rich and fresh.
This boutique library contains 9 analog and pcm synth gears such as DAVE SMITH OB6, MOOG MINITAUR, MOOG SUB 37, NOVATION X STATION, NORD LEAD 2, OBERHEIM MATRIX 6, OBERHEIM MATRIX 1000, ROLAND SUPER JV & YAMAHA DX7. We recorded and designed these synths in Budapest and Los Angeles during the summer of 2018.
The concept behind SYNTHS DX is to build a ROMpler-like sampled instrument which sounds as great as the original synths: we captured almost all instruments patches key-to-key and we applied the minimum software post-production effects to keep these patches as rich and fresh as the originals. Therefore the GUI is extremely simple & easy-to-use – and were carefully selected and tailored these controls for each instruments so every variations sound great:
Minimum Requirements
+ Windows 7 (latest Service Pack, 32-/64‑bit), Intel Core Duo or AMD Athlon 64 CPU, 2GB RAM.
+ Mac OS 10.7 or higher, Intel Core Duo CPU, 2GB RAM.
+ 6 GB free disk space for complete installation.
+ Full version of Kontakt 5
+ 1 600+ samples
+ 24bit / 48kHz sample rate​
+ 2.7 GB total size (3.6 GB uncompressed)
+ Recorded with Universal Audio Apollo 8p & Focusrite Preamps
+ Kontakt 5.8.1+ required
+ Royalty free license
+ Envilope selector with 3 Attack & 3 Release stages
+ 6 Effects: Phaser, 80s Flanger, Leslie, Delay, Reverb & Ladder Filer (2 effects / Instrument)
+ 2 SSL-style EQs: Bass Booster – Mid Attenuator & Mid Attenuator – Hi Booster combo
+ Pole wheel for soft sample group blending
+ Custom GUI with SYNTHS Engine​ 1.1
51%

$

79.00

Available March 29, 2023.